MassMEDIC launches The Innovation Salon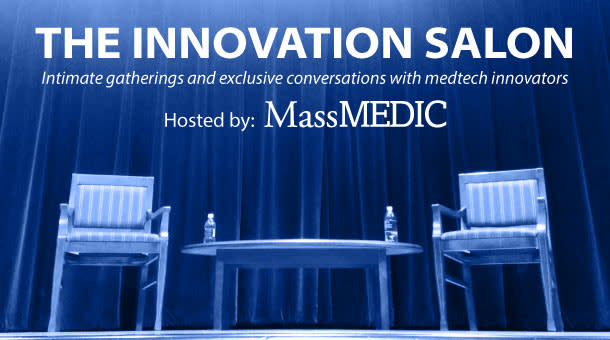 The Innovation Salon, a new signature event from MassMEDIC showcases inspiring stories behind innovation.
Live, interactive events will showcase the stories and inspiration behind some of the most important new technologies and therapies
MassMEDIC is proud to announce the launch of "The Innovation Salon," a live conversation series, that will shine a spotlight on the personal stories behind medical innovations. The greater-Boston area is a hot bed for new technologies and therapies, and this Salon Series aims to showcase the medtech ecosystem's leaders and entrepreneurs creating new standards of care. The Innovation Salon Series is co-sponsored by Continuum, The MedTech Conference and The Mullings Group.
The Innovation Salon Series launch event will take place on Tuesday, March 12th, at Continuum's headquarters in Boston's Seaport Innovation District. The Salon's first guest is Eddie Martucci, co-founder and CEO of Akili Interactive Labs Inc., a groundbreaking digital medicine company developing novel treatments for cognitive dysfunction and brain-related conditions delivered through a proprietary and captivating video game experience.
Each Salon event in the series will include a networking reception and guest interview by MassMEDIC President, Brian Johnson. Guests will share stories of about their careers, mentors, inspiration and innovation journey.
"By shining a light on the entrepreneur's stories—the inspiration, the challenges and roadblocks, the aha moments, the successes and everything in between—the Salon will inspire and inform our community of innovators. We are excited to partner with Continuum, The Medtech Conference and The Mullings Group on the Innovation Salon Series and look forward to showcasing the many entrepreneurs and leaders in the greater Boston area, said Brian Johnson, president, MassMedic. . "We're excited to start this series with a visionary like Eddie Martucci , who has assembled an outstanding team at Akili to take a completely new approach to treating neurological disease.."
When: Tuesday, March 12, 2019 from 5:30 to 8:00 p.m.
Where: Continuum Innovation, 21 Drydock Ave #410w, Boston, MA 02210
Cost: Members: $100; Non-members $200
Program Agenda:
5:30 – 6:30 pm: Cocktails and networking
6:30 – 7:30 pm: Brian Johnson interviews Eddie Martucci, followed by audience Q&A
7:30 – 8:00 Pm: Closing networking reception
About our guest:
Eddie Martucci
Chief Executive Officer, Akili Interactive
Eddie is a co-founder of Akili Interactive, a leading digital medicine company creating prescription treatments for people living with cognitive disorders that are delivered through immersive action video game experiences. Akili is currently developing technologies to treat medical conditions across neurology and psychiatry, including ADHD, depression, autism and various inflammatory diseases. Prior to starting Akili in 2011, Eddie co-founded two other health-focused start-ups with PureTech Health, and helped launch the firm's digital health initiative. He was previously a Kauffman Entrepreneur Fellow, a program sponsored by the Kauffman Foundation of Kansas City, MO, focused on healthcare entrepreneurship. Prior to that, he completed his graduate work at Yale University in the Departments of Pharmacology and Molecular Biophysics & Biochemistry, focusing on structure-based drug design. Eddie received his B.S. in Biochemistry from Providence College, and his M.Phil. and Ph.D. from Yale University.
Eddie frequently serves on discussion panels for industry and academic events related to healthcare innovation, has appeared in media including CNN's Vital Signs with Sanjay Gupta, and Akili has received recognition including the 2014 Future of Health Technology product award, 2015 50-on-Fire Boston, #1 health company in Entrepreneur magazine's 100 Brilliant Companies of 2016, CNS Summit 2017 Innovation Award winner, 2018 Xconomy Innovation at the Intersection award finalist, 2018 Bostonfest Coolest Companies finalist and 2018 Business Intelligence Best Places to Work Finalist.
Images